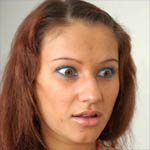 Ladies and Gentlement, let me present you with what could be the funniest set of strap-on porn photos that I've seen in a very long time.
In this set, a young businessman is sitting politely on the lounge with a female friend. Suddenly he has an idea. A very kinky idea.
While she gets the tea, he gets out his favorite strap-on dildo and makes his suggestion.
What happens next is fucking hilarious.
Fellas, don't try this at home.